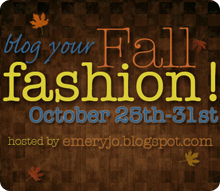 First of let me say it was so much fun yesterday seeing everyone's fall fashion! I had been wanting to start blogging for a while now, and I've already been so inspired by everyone's sweet comments! (Even with my cell phone pics)
Today I borrowed my roommate's camera, so these are way less blurry than yesterday. I still don't have a tripod, so I used a tv tray with textbooks stacked on it...classy.
Shirt-Wet Seal
Belt-Charlotte Russe
Skirt and Socks-Target
Boots-Borrowed from a friend, actually, but originally from Target
On a side note, I'm also loving how my hair turned out today. I've been using
this
tutorial from
The Daybook
, and I've been having great hair days ever since.
Can't wait to look at everyone else's day two of fall fashion week!
PS, I just realized this pictures look a lot better when you click on them and make them bigger. I'll have to figure out how to make them bigger next time so you can see more details (I'm not very computer literate, unfortunately, but I'll ask the boyfriend for help).